The Tender Grinch is in danger of upsetting Bridget Bartholomew's planned Christmas getaway. A business-critical opportunity has been delayed and is now due to be advertised two weeks before the festive season begins.
With key people taking holiday into mid-January, completing the tender by the 8-week deadline is going to be a big challenge. Thankfully Bridget has the TenderEyes Bid Management Solution to rely on and is confident she will still get to enjoy the holidays.
Let's find out how Bridget defeats the Tender Grinch ……
Be Prepared
Bridget has been Brakeshaw Logistic's Senior Bid Manager for 11 months and is determined to win this tender. The company adopted the TenderEyes Bid Management Solution 6 months ago on Bridget's recommendations, having used it in her previous company.
The pressure is on, and she has a lot to prove!
It's the last week of November, so Bridget makes full use of the time and software, using its powerful tools to plan and prepare for the tender.
Step 1: Qualifying the Tender Opportunity
A Possible Grinch Steal: The Sales Team may not be prepared and ready to qualify and secure sign off on the opportunity as soon as it is published. Team members may be away on holiday, off sick or focused on other opportunities. Any unnecessary delays at this stage will have repercussions further along the process.
"The tender came without ribbons, it came without tags. It came without packages, boxes, or bags." The Tender Grinch
Defeating the Tender Grinch: Bridget knows she cannot afford any delays at the start of this project. Using the TenderEyes Opportunities Manager Module, Bridget checks the status of the tender in the list of Contracts About to Renew and who is responsible for its qualification and approval.
She then creates tasks within TenderEyes with email notifications to her colleagues to confirm they are primed to action the tender as soon as it hits their desks.
Step 2: Creating Tender Content
A Possible Grinch Steal: With 100s of questions to answer, compiling the response can be a time-consuming activity. Without proper content management and an organised Bid Library of standard responses, the task can be even more onerous.
Delays in receiving content from Subject Matter Experts can result in rushed 'cut and paste' answers being used from previous tender submissions. These answers may be out of date, inaccurate or have already received low evaluation scores.
"Stupid. Ugly. Out of date. If I can't find a good tender response, I'm not going to care" The Tender Grinch
Defeating the Tender Grinch: Bridget knows that if she waits to action information requests after the tender is qualified, many of the Subject Matter Experts will already be away on holiday.
Thankfully, using the TenderEyes Knowledge Bank, Bridget and her team have worked hard to build a comprehensive library of standard questions and responses. Many of these will form the foundation of the tender submission.
Bridget can easily view all questions and documentation to determine validity dates and identify which content will need reviewing and updating by the Subject Matter Experts.
Within the solution, Bridget can quickly assign content update tasks to the relevant Subject Matter Expert with required deadlines.
For example, she sees that the Health & Safety Policy is out of date so requests the latest version of the document from the Health & Safety Officer.
There will of course be questions that will need further input from Subject Matter Experts. But being proactive and ensuring standard responses are up to date will take a lot of the pressure off.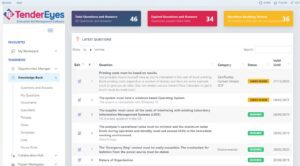 Step 3: Mobilising Tender Project
A Possible Grinch Steal: Any delay in notifying the Bid Team to action an approved tender opportunity will impact project mobilisation and action. Without good project planning and processes in place, information requests and reminders can be misplaced or cause more delays and rushed responses.
Defeating the Tender Grinch: Thankfully the TenderEyes Project Workspace Module allows for quick project set up.
Bridget knows that as soon the tender opportunity is approved for action, she will receive automatic notification and can respond accordingly. Bridget can quickly create a new project, assign Project Managers and the Project Team with start and end dates.
She could even be more proactive and set up the project before the tender arrives.
She can tailor the project to include Win Themes, Project Scores, Key Facts, Risks, Checklists, Sub-Contractors etc. As well as assign tasks and arrange project meetings.
Any relevant information and documentation created during the opportunity qualification automatically populates within the project workspace. This ensures continuity of process and information.
Step 4: Monitoring Bid Progress
A Possible Grinch Steal: Managing the tender process, when dealing with so much information, numerous people and tasks, is a huge challenge. Made even more so over the holiday period.
Without proper insight into project progress, roadblocks or limitations on resources can be missed and left unresolved.
Delays can build up and the final submission rushed to completion, resulting in lower win probabilities. This can also lead to the business being open to risks and damaged brand reputation.
"Even if I wanted to progress the tender, my schedule wouldn't allow it." The Tender Grinch
Defeating the Tender Grinch: The TenderEyes Business Analytics Module allows Bridget to review, at a glance, project progress. This includes Dashboards, Kanban Charts and Reports covering all aspects of the project from stages to tasks to people and timelines.
She can quickly identify and resolve any issues, redirect resources and send reminders for incomplete tasks and content. This ensures Bridget has full control of the project and can be agile during the whole process.

Step 5: Understanding Tender Requirements
A Possible Grinch Steal: If the Procurement Agency requirements, evaluation methodology and scoring matrix are not properly assessed, understood and shared, the quality of the tender submission may suffer. Responses may be incomplete and lack clarity in addressing the questions, resulting in lower evaluation scores.
Defeating the Tender Grinch: Bridget knows that to deliver quality responses she needs to spend time understanding the details of the Tender, Key Facts, Win Themes, Risks and Competitors.
Thankfully all this information is available to her within TenderEyes and she can more easily establish where further input is required from Subject Matter Experts.
Subject Matter Experts will have access to the questions and scoring matrix within the solution, giving them context and better understanding of the nuances needed to score higher evaluation scores, and respond accordingly.
Step 6: Compiling Bid Submission
A Possible Grinch Steal: Compiling the tender submission is a huge task, involving numerous people and substantial time. This can be particularly onerous when reliant on repetitive manual processes and basic tools to complete.
 "Hate, hate, hate. Double hate. Loathe entirely this manual repetitive process." The Tender Grinch
Defeating the Tender Grinch: Since adopting TenderEyes, the whole process has been streamlined and automated.
Powerful tools, functionality and integration with Microsoft Office applications has made it much easier and faster to undertake this work.
Bridget along with her assistant will start to compile responses as and when content is available and approved. This more agile approach will save a mad rush at the end.
The use of intelligent cognitive search to find answers and auto-populate Office documents with one click has helped the Bid team significantly speed up the process.
Step 7: Finessing Tender Responses
A Possible Grinch Steal: Every response given to the tender questions contributes to the final evaluation score and win probabilities.
Delays experienced throughout the bid process can use up valuable time – days and even weeks can be lost! This results in rushed submissions being compiled, that do not fully address the finer points within the questions and thus receive lower scores.
"We did our worst with our responses and that's all that matters." The Tender Grinch
Defeating the Tender Grinch: Bridget is focused on ensuring delays are reduced and she has plenty of time in hand to review, test and score responses.
TenderEyes gives her the control to successfully manage resources, tasks and timescales. Efficiencies gained through streamlined workflows and automated tasks, frees up time to allow her to finesse the tender responses and secure higher evaluation scores.
Step 8: Securing Tender Approvals & Submission
A Possible Grinch Steal: Securing approval of the finished bid before submission can be challenging. Without a formal process in place this can cause added pressure and delays.
Bids submitted without detailed review and sign-off can cause negative financial and brand repercussions.
"Tomorrow is Tender submission day. It's practically here!" — The Tender Grinch 
Defeating the Tender Grinch: Bridget knows that at each stage of the bid process, decision gates and approvals have been set up within the TenderEyes solution.
This gives her confidence that all necessary Approvers have been identified, tasks assigned with decisions being recorded in the system.
Bridget can keep track of any delays in decision making and chase where necessary. The finalised submission will also be securely stored within the project for easier handover to the Delivery Team when the tender is won.
Step 9: Enjoying the Festive Holiday
With her proactive planning and use of TenderEyes, Bridget now has everything in place to successfully project manage the forthcoming tender.
Even with colleagues unavailable during the festive period, and taking time out herself, Bridget is confident that she can deliver a high-quality tender submission within the tight 8-week deadline.
"Are you having a holly, jolly worry-free Christmas?" Tender Grinch
Yes, Bridget certainly is!

Disclaimer
This is purely a work of fiction intended to bring a light-hearted view of a serious challenge experienced by many Bid Teams over the holiday period.
All Names, characters, places and incidents either are products of the author's imagination or are used fictitiously. Any resemblance to actual events or locales or persons, living or dead, is entirely coincidental.
The Tender Grinch has been inspired and created in honour of The Grinch, a fictional character first introduced in 1957 by Dr Seuss in his book 'How The Grinch Stole Christmas'. This Christmas thief has been portrayed in many adaptations including Jim Carrey in the 2000 live-action movie The Grinch.
Quotes from the Tender Grinch have been adapted from actual Grinch quotes to fit within the story, are purely fictional and mean no offence to Grinch fans or aficionados.