In this first quick guide, we introduce all 9 modules and demonstrate the role that each play in delivering end-to-end seamless opportunity, bid and contracts management and the benefits of adopting the entire platform.
In future blogs we will look at individual modules in more detail, focusing on the key functions, smarter working and business insights we know our customers achieve and benefit from.
One Sophisticated Solution
TenderEyes Enterprise Bid Management offers an easy to use, scalable solution with 9 core modules.
These have been designed for different stages or elements of opportunity, bid and contracts management, with a comprehensive set of tools to help you deliver best practice excellence.
You have the flexibility to choose individual modules for a phased implementation or go big bang with the whole solution.
Whichever way you go you can be assured that TenderEyes will deliver:
Smarter  opportunity  management
Rapid project mobilisation and agility
Greater content quality, access and use
Wider communication and collaboration
Deeper reporting, insights and security.
Now let's look at each module and how they work seamlessly together.
Opportunities Manager
Sales Teams have a challenging time keeping on top of tender opportunities. There are numerous Procurement Portals that make public tenders easily accessible, but it is still a huge task to identify your best-fit opportunities.
According to Official Journal of the European Union (OJEU), over 520,000 procurement notices are published with the OJEU each year. Approximately half of all publications are calls for tenders. These have a combined value of roughly €420 billion.
TenderEyes Opportunities Manager
makes tender identification much easier and smarter. The solution can be integrated and linked to some 35 different government and other regulatory procurement portals including EU TED, FTS and IMF
Not only that but tender notifications can be filtered to specified formal procurement codes (CPV Codes) and keywords as well as other filters to cover financial hurdles, geographic limits and competitive positions. This gives you absolute control on the tenders you want to be notified about, ensuring alignment to your business strategies and product offerings.
You also get accurate up-to-date visibility of the opportunity pipeline, progress and upcoming contract renewals, with automated alerts, tasks and reminders to better action and track your opportunities.
The Opportunities Manger can be easily tailored to your adopted qualification strategies and models such as Miller-Heiman®, BANT or SCOTSMAN or your own sales and approvals process, delivering consistent, streamlined activity.
Once tender opportunities are given the go-ahead to proceed, TenderEyes provides for seamless handover from your Sales Team to your Bid Team through the Project Workspace module.
Knowledge Bank 
Keeping track of business information and documentation is a challenge, often resulting in duplicated, inaccurate data sat within numerous data silos in different teams and geographies. This makes life hard when dealing with the amount of the information and documents required to collate and complete tender submissions.
Workers spend an average of 50% of their time creating and preparing documents, with an astounding 83% of employees recreating existing documents they cannot find in their company network. Finances Online.
TenderEyes Knowledge Bank
provides a secure structured directory where everything is centrally stored in one place and accessible to all stakeholders. Auto-population and sophisticated search tools reduces manual input and makes life much easier finding the content you need.
Subject Matter Experts, such as your Finance or Health & Safety Manager, have a dedicated place to easily manage, update and control standard business information such as VAT number, company registration, insurance and health & safety polices.
Standard responses to tender questions are also stored within the Knowledge Bank giving your Subject Matter Experts quick visibility, easy tracking and reminders for updating responses. It's then very straightforward for your Bid Team to access and use this information when completing the Tender submission within the Project Workspace module.
Content ownership, viewing, updating and approvals can be managed at team and individual level to ensure information is properly managed, accurate and continuously improved.
Project Workspace Module
With bid teams under pressure to secure huge amounts of information from numerous sources for multiple tenders, all within tight deadlines, rapid project mobilisation is essential.
TenderEyes Project Workspace
provides a seamless transition from your Sales Team to your Bid Team when used in conjunction with the
Opportunities Manager
and
Knowledge Bank
modules.
Your Bid Team can quickly start auto-populating tender responses from the Knowledge Bank, both standard answers such as VAT number, insurance, product description, etc. and generic responses to more in-depth questions. This gives them early insight to identify when they need to go back to the Subject Matter Experts for more detailed
answers.
Automated workflows, tasks, schedules, reminders and alerts set your projects in progress with little effort, allowing you to easily monitor progress, identify roadblocks and take action to resolve.
High-performing organisations with proven PM practices in place have met their original goals 2.5 times more often (89% vs. 34%). Project Management Institute.
The solution can be customised to accommodate project management models such as PRINCE2, internal project methodologies, staged gateways,corporate approvals and decision gates to ensure consistent compliance.
TenderEyes can be linked with calendars, emails and absence management platforms as well as CRM & ERP to provide even greater business integration, process efficiencies and performance insight.
Integration with Partner Manager allows you to find your best-fit partners and contractors and Contracts Manager ensures a smooth handover from your Sales and Bid Teams to your Operations Team when you win the tender.
Project Workspace data can also be fed back into the Opportunities Manager to ensure the Sales Team pick up on contract renewals ahead of time.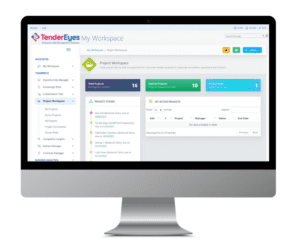 Collaboration Hub Module
With remote homeworking still a reality for so many, having the tools in place to foster communications, socialisation and wellbeing can make a world of difference to your team's morale, learning and innovation.
Companies with a highly engaged workforce have 21% higher profitability. They also have 17% higher productivity than companies with a disengaged workforce.
Gallup.
The
TenderEyes Collaboration Hub
widens opportunities to build better working relationships, wider team working and content sharing through Peer Groups, Wikis and Blogs, all essential in delivering high quality tenders.
The module has a host of functions that allow you to resource and manage meetings and link to social media, blogs, RSS feeds and knowledge banks. This allows your teams to keep up to date on company, project, industry and competitor news and provides your Sales Team another source to identify new long-range tender opportunities.
In addition, you can use the Collaboration Hub as a learning and development centre to support your teams professional and personal development and promote bid management best practice and excellence.
Competitor Insights Module
Bidding for high value tenders is an exceptionally competitive activity and any advantage you can gain will improve your win probabilities. And let's face it, winning is the only thing that counts!
Often overlooked and seen as just a marketing tool, competitor intelligence and insight help your Sales, Subject Matter Experts and Bid Teams take your tender responses to the next level.
TenderEyes Competitor Insights
module gives you the tools to really focus on securing multi-level strategic, operational and tactical competitor intelligence. You can build and access a comprehensive set of competitor profiles with standard information together with product comparisons and news feeds.
Another powerful tool is the ability to capture competitor tender responses and scores which can be analysed to identify and exploit gaps in their offerings within your own tender response, contributing to ongoing content improvements.
Integration with Microsoft Office tools, CRM and GIS gives you the opportunity to optimise the use of your competitor intelligence and better inform strategic decisions and activities. Information can also be auto populated within the Knowledge Bank for more dedicated use.
Partner Manager Module
Securing the right partners and sub-contractors is critical to the success for both your tender submission and contracts delivery.
Building good relationships with your supply chain positively impacts your brand reputation and client perceptions, expectations and experiences.
TenderEyes Partner Manager module gives you the opportunity to build partner profiles with critical information such as insurances, contracts and product information. This together with pricing and service management matrices helps you select best-fit partners for your projects.
You can set evaluation criteria and analyse contract performance data to establish levels of trust and commitment as well as identify risks and areas of concern for both you and the procuring party and address
these in your tender responses.
Partner contributions to your tender submission are vital and these requests can be quickly mobilised and managed through the module with automatic notifications and reminders.
Information can be fed from the Partner Manager into the Project Workspace and Contracts Manager for seamless supply chain integration and management.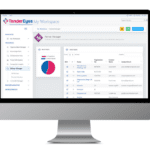 Contracts Manager Module
Having won the tender, one of the riskiest elements is handover from your Sales and Bid Teams to the Operations Team.
TenderEyes Contracts Manager
ensures this process is seamless with auto-population from Project Workspace of header records and critical documents including the final approved tender submission – you may be surprised how often we hear this gets mislaid!
The Contracts Manager operates similarly to Project Workspace with rapid mobilisation, streamlined processes and automatic alerts, tasks and reminders to set timescales.
Interactions with clients and other stakeholders can be activated and recorded providing a full audit trail of KPIS, service reports and delivery performance, with better issue identification and resolution
opportunities.
The module also links directly to the Partner Manager for full supply chain delivery management and can feed back into the Opportunity Manger for improved sales pipeline management.
Business Analytics Module
Information is power! Activity and performance insights go a long way to deliver improved bid management strategies and practices.
In 2020, 54% of enterprises agreed that cloud-based BI was vital to their current and future initiatives.
Forbes.
TenderEyes Business Analytics
gives you comprehensive access to data within from all 7 above modules, within a standard set of dashboards for easy interpretation and analysis.
This includes end-to-end analysis from opportunities through the bid submission stages and on to contracts delivery. Activity can be monitored through task lists, Kanban boards, charts, heat maps and progress and completion reports.
One of the most powerful elements is the analysis of tender results scores which can substantially contribute to ongoing improvement of future responses and increase win probabilities.
More detailed customised dashboards and reports can be delivered through Microsoft PowerBI and exported to Microsoft Excel and Word for further analysis and custom reports.
Governance Module
Bidding for high value tenders entails a great deal of investment in time and resources. Managing this process badly can have huge financial and reputation implications.
The tender submission documents themselves contain in-depth details about your business and products which need to be properly approved and protected.
The
TenderEyes Governance & Security
module provides your IT and Risk Management Teams the tools to manage roles, responsibilities and access rights for individuals, teams and divisions as well as required approvals and sign offs.
Access is provided to audit logs for security checks and to maintain Intellectual Property protection.
Taking a Deeper Dive!
Watch out for the next blog in this series when we are taking a more detailed look at the Opportunities Manager module.